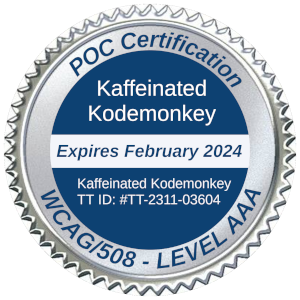 ---
---
Kaffeinated Kodemonkey, a DHS Certified Trusted Tester
Conducted an A11y Evaluation Audit on the Kaffeinated Kodemonkey website
for ADA compliance based on the WCAG/508 2.1 Level AA requirements.

Trusted Tester ID: #TT-2311-03604
---
Certificate Overview
The POC Certificate outlines Kaffeinated Kodemonkey's endeavors to become ADA Compliant and meet current WCAG Level AA requirements.
Due to code revisions, documents, and standard updates, it is nearly impossible to reach 100% compliance through automated testing alone.
Therefore our team is committed to working with a Certified A11y Developer to monitor accessibility and remain compliant.
Supporting Documents:
A11y Statement - Depiction of unresolved accessibility issues including third-party elements that are not compliant with a path to resolution.
A11y Audit Report: Results form the a11y audit; returns a lists of accessibility issues and sets current compliant status.
A11y Compliance Report: Details results from a Manual Evaluation verifying each WCAG criteria status.
A11y Monitoring
To remain in compliance our Certified A11y Developer will monitor the site, resolves issues, and updates all documents as to reflect any changes in compliance.
The following environment, software, and tools are used in the audit and monitoring process:
Technology Tools
Tools: ANDI, WAVE, Accessibility Insights
Thrird-Party: PopeTech auto Scan, SEO PowerSuite
Screen Readers: NVDA, ChromeVox
Keyboard Only: Yes
Evaluation Environmen
Browsers: Firefox and Chrome
Operating System Linux/Ubuntu 20.4
Divice: Androind TalkBack
Evaluation Date: Feb 2024
---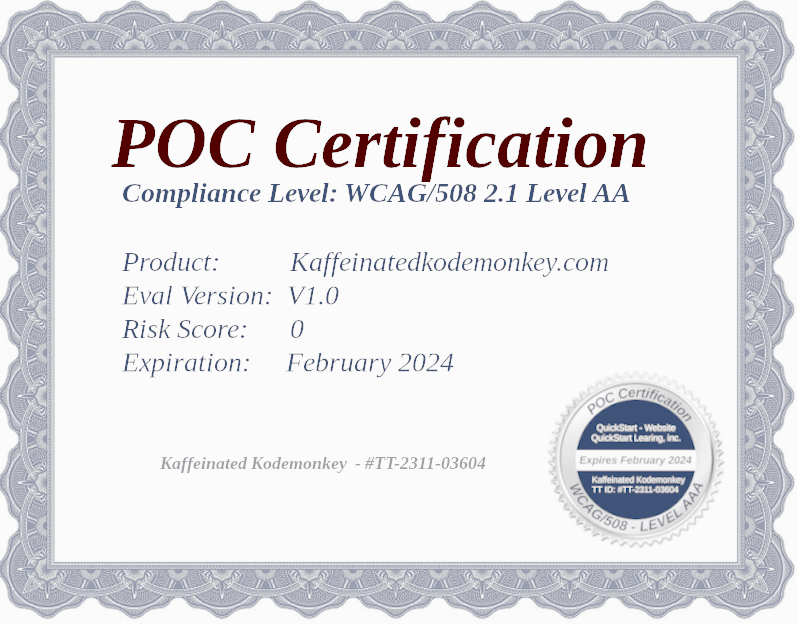 ---
Our mission is to develop and certify digital content to meet ADA Compliance.
With the combination of an Certified A11y Developer and a solid framework, you can achieve and maintain accessibility with eases.
Do you have an ADA Compliant Website
Talk with a Certified A11y Developer and start deploying accessibe content today.
Or discuss how we can be a SME for training, meetings, events, etc...
Our A11y Developers are DHS Certified Trusted Testers and employ the trusted tester process.